The new leaders of the Midwest Governors Association (MGA) are committing their group to the advancement of the biofuels they see as the future for their region.
South Dakota Governor Mike Rounds will serve as chair with Michigan Governor Jennifer M. Granholm as vice-chair:
Under its new leadership, the Midwestern Governors Association will focus on strengthening state and federal efforts to build and maintain our transportation network. This effort will center on using energy produced in the Midwest to fuel the vehicles that use our roads and rails, helping Midwestern businesses move their products more efficiently and improving travel for Midwestern residents and visitors. The MGA will also build on its recent efforts to make the region a leader in domestically produced energy and facilitate several states' efforts to address climate stewardship.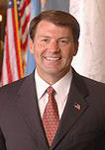 "I am honored to lead the Midwestern Governors Association over the next year," said Rounds. "Our region has been blessed with many resources that we can use to address the challenges facing our states. Specifically, I am eager to work with my fellow governors to make sure the Midwest's transportation infrastructure is maintained in the new federal Transportation Bill."

"As governors of our respective Midwestern states, we are committed to building a stronger alternative-energy economy that lessens our dependence on foreign oil and creates jobs in the process, said Granholm. By working with Gov. Rounds to improve our region's transportation needs, we will make Midwestern states more competitive in this global economy."