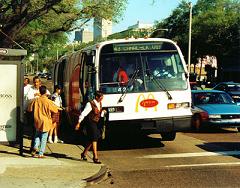 The City of New Orleans will be running the buses that replace the losses from Hurricane Katrina on biodiesel.
The New Orleans CityBusiness reports that the new buses will arrive this spring:
The first of 39 new RTA buses will be delivered in April, a $15-million step toward replenishing a 372-bus fleet Hurricane Katrina cut by 205 ruined buses.
Each of the new $385,000 buses will run on biodiesel, a cleaner-burning alternative fuel comprised of specially processed plant or animal fat often blended with petroleum diesel.
"We started looking into the alternative options and so far biodiesel is the option that best fits our needs so we can strike a compromise between efficient transportation and a greener city," Burgos said.
New Orleans is not alone as San Francisco, CA; Columbus, Ohio; Houston, Texas; and Bloomington, Indiana… among others… have all switched either their bus or city vehicle fleets or both to biodiesel.
Officials also hope the switch to biodiesel, made cheaper by certain tax incentives, will help the city transit system get back on track to its pre-Katrina days. Right now, ridership is only about one-fourth what it used to be.