You know it's big when it's become a child's plaything. Corgi International is introducing the next-generation fuel-cell powered toy car. Now renewable energy is going to be hip with the kids…
A revolutionary next-generation radio controlled (RC) toy car powered by clean fuel cell energy technology was unveiled at the Nuremberg International Toy Fair in Germany.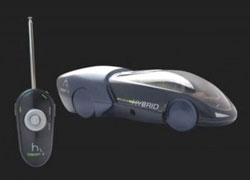 The H2GO, from Corgi International, one of the world's leading toy-makers, combines classic playability with breakthrough zero emissions energy technology. Power for the H2GO is delivered by an on-board hydrogen fuel cell, where sun and water supply the fueling unit with renewable, clean energy for unlimited play.
The first of a new range of toys to be launched under the brand name H2GO, the futuristic car was designed by acclaimed designer Professor Luigi Colani. The car boasts an eye-catching aerodynamic design and is made using lightweight environmentally-friendly wheat based plastics.
The H2GO is the result of a unique strategic partnership between Corgi International and Horizon Fuel Cell Technologies, a global leader in fuel cell development. Going forward, both companies aim to develop and produce a range of new toys using hydrogen fuel cells, making the H2GO brand a recognized global leader in clean energy toys.