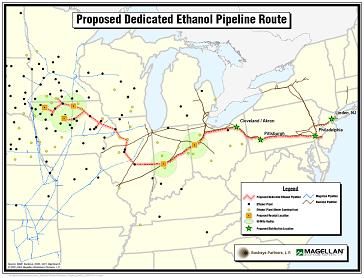 What you see above could be the biggest boost to ethanol in this country: a pipeline that will move ethanol to the East Coast of the U.S. at a transportation cost on par to what petroleum now enjoys.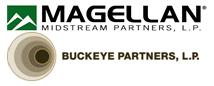 Magellan Midstream Partners and Buckeye Partners, both in the fuel transport business, put out this press release saying they are looking into a dedicated pipeline that could supply more than 10 million gallons of ethanol per day:
The pipeline would gather ethanol from production facilities in Iowa, Illinois, Minnesota and South Dakota to serve terminals in major markets such as Pittsburgh, Philadelphia and the New York harbor. The project, which preliminarily has been estimated to cost in excess of $3 billion, would span approximately 1,700 miles and would take several years to complete.
"The most promising liquid fuel alternative to conventional gasoline today is ethanol. But without an efficient means to transport ethanol from the Midwest to other markets, its benefits are limited," said Senator Tom Harkin (D-IA), Chairman of the Senate Committee on Agriculture, Nutrition and Forestry and a leader in promoting ethanol pipelines. "Having a dedicated ethanol pipeline running from the Midwest to the eastern markets will help bridge the gap between the Midwest and the East, aiding America's energy security. So I applaud these two companies' efforts and I look forward to working in Congress to support the development of such pipelines."
"We believe the proposed pipeline is a unique and innovative solution to meeting the growing need for renewable fuels in the Northeast," said Don Wellendorf, Magellan's President and Chief Executive Officer. "Pipelines have consistently been chosen over the years as the safest, most reliable and cost effective method for moving liquid fuels. The potential project would be a major step in bringing ethanol into the traditional petroleum infrastructure system."
"Buckeye and Magellan are leaders in the pipeline industry and can play an important role in developing the infrastructure needed to efficiently meet the renewable fuels requirements of the recently enacted Energy Bill," said Eric Gustafson, Buckeye's Senior Vice President and Chief Operating Officer. "This feasibility study will evaluate the possible use of existing right-of-ways and workforces as well as other synergies and resources that our companies have. Our goal is to develop a cost effective project that could deliver ethanol from the production hubs in the Midwest to the high demand areas in the Northeast."
The feasibility study into the project could be done by the last half of this year.