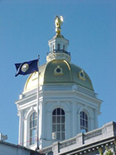 A bill that would require all state vehicles in New Hampshire that run on diesel to have a percentage of biodiesel in the mix has passed that state's House and is moving to the Senate.
This story in the Nashua Telegraph says the legislation also includes the heating oil used for state buildings:
The bill requires the commissioners of the Department of Transportation and the Division of Plant and Property Management to purchase fuels that contain 5 percent biodiesel.
It was sponsored by Rep. David Borden, D-New Castle, who is chairman of the state Biodiesel Commission. Recently, the bill was voted out of the Transportation Committee with a recommendation that it ought to pass.
"HB 1631 went through the House without a hitch being on the consent calendar. We are hoping it will have no trouble with the Senate," Borden said.
"The way things are going now, if oil keeps going up, it's very likely biodiesel will become very competitive," he said. "It does lengthen engine life, so the purchasers for state agencies may decide it's worth it even if they have to pay a small premium."
There is a clause that allows the state to opt out of buying the biodiesel if it is cost-prohibitive. But it says the purchasing director must also consider biodiesel's benefits, such as longer engine use, when figuring up the cost.