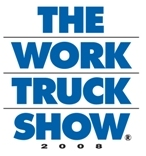 Alternative fuels and hybrid automobiles are being featured at this year's Work Truck Show. The Show is sponsored by the National Truck Equipment Association.
Work trucks — those vocational vehicles that labor every day to deliver packages, clear snow, build roads, repair utility lines and otherwise keep the country running — are getting greener. The rising cost of fuel, new emissions regulations and environmental concerns are making hybrid and alternative fuel vehicles increasingly attractive to a wide range of companies and government agencies.
In response, manufacturers are developing a host of new products, including vehicles that run on electricity, biodiesel, hydrogen, CNG, LPG and propane. There are hydraulic hybrids, diesel electric hybrids and even solar-powered options in development.
Many of these new products will be exhibited at The Work Truck Show(R) 2008 and 44th Annual National Truck Equipment Association (NTEA) Convention, North America's largest vocational truck event. To help attendees sort through it all, the show will feature a full-day "Hybrid Truck and Alternative Fuels Summit," as well as a ride and drive.
The Work Truck Show 2008 runs Feb. 26-28, 2008, at the Georgia World Congress Center in Atlanta, GA, with the Convention and educational sessions starting Feb. 25. The Summit is from 9am to 4:30pm on Feb. 25.
The U.S. Deparment of Energy under secretary, Clarence H. "Bud" Albright, Jr., will offer the keynote address at this year's Summit. Industry experts will then follow with presentations on the latest developments in hybrid and alternative fuel technologies. Attendees will also have the chance to test drive hybrid and alternative fuel commercial vehicles as part of the Hybrid Truck and Alternative Fuels Ride-and-Drive.