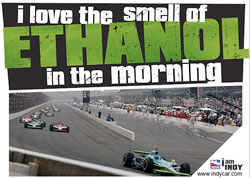 Chomping at the bit for the 2008 Indy racing season to get underway? You're not the only one. A fellow photog that covers the Indy Racing League sent me this all too appropriate IndyCard. I think it's safe to say that the smell of burning ethanol has quickly evolved into one of the distinct smells of Indy races. That and burning rubber!
Does the smell of ethanol get you excited about racing? Tell others about your obsession with the authentic IndyCard.
And don't miss the Homestead season opener on March 29 at Miami Speedway. Even if you can't make it to the track to "smell ethanol," you can catch the race at 8 p.m. on ESPN2.