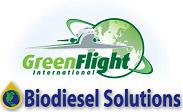 The team that flew a Czech military jet on 100 percent biodiesel last October (see my post from Oct. 16, 2007) has plans to fly a Learjet around the world on the green fuel.
Four months ago, Douglas Rodante with chief pilot Carol Sugars at the controls and the team from Green Flight International flew a 40-year old Czech Aero L-29 Delfin for 30 minutes above the Nevada desert for a half-an-hour. The jet was made for short flights to stop potential defectors. With that in mind, the folks from Green Flight have decided to fly a Bombadier Learject around the world later this year or early in 2009. This story in the Candian Press has more details:
Bill Lear Jr., the president of Learjet before it was purchased by Bombardier in 1990, and Chris Cordova, a former flight engineer on Air Force One, have signed on as consultants.
"It's a personal goal of mine to implement biofuels into mainstream aviation and mainstream transportation," Rodante said in an interview from his home in Florida.
"I think it's necessary that we do this first and foremost for environmental reasons."
Since the jet flies at high altitude where the temperatures are really cold, Green Flight is planning on using tank heaters and chemicals to keep the fuel liquid and possibly mixing the biodiesel with kerosene. Officials believe emissions could be cut 50 to 80 percent compared to conventional jet fuel.