The Georgia State Legislature is considering a measure that would mandate that all diesel sold in the state would have at least 2 percent biodiesel.
This story in the Macon (GA) Telegraph says the bill's sponsor expects opposition to his bill: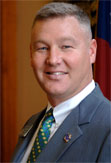 Rep. Alan Freeman, R-Macon, said House Bill 1174 would help farmers and agribusinesses in Georgia's small but growing biofuel industry. With co-sponsors that include the Democratic minority leader and the governor's floor leader, Freeman said he hopes the measure can win passage.
"I think the bill has merit, but the opposition is going to come from the word 'mandate,' " Freeman said. "
Indeed, the head of the Georgia Oilmen's Association, whose members would be required to sell the blended fuel, said he is strongly opposed.
The state's biofuel industry and fuel distributors are not yet ready to meet the mandate to include biological fuel such as soybean oil or chicken-fat derivatives in all diesel fuel, said Roger Lane, president of association. And even if they were, he would oppose it, Lane said.
"I think it's a bad bill and anti-business," Lane said. "If there's a need for that product to exist, it will. I have no intention of supporting legislation that mandates a product."
Gee, there's a stunner. Someone in the oil business opposed to biodiesel. Freeman counters the argument by pointing out that there's already more than enough soybean oil, rendered chicken fat, and other biofuels to meet the anticipated demand of 40 million gallons a year for Georgia.
Keep an eye on this one. I expect that this could be a real fight.