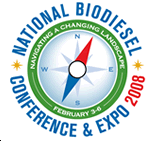 Probably the biggest issue facing biodiesel producers today is what to use as a feedstock. With soybean prices going through the roof, refiners are trying to find additional feedstocks. During the recent National Biodiesel Conference and Expo in Orlando, Florida, the last general morning session focused on the question of what to use for the green fuel.
The forum, led by Alan Weber, economic consultant to National Biodiesel Board, with Dr. Jack Brown from the University of Idaho, Keith Bruinsma, Vice President of Corporate Development for ethanol producer VersaSun, John Sheehan, Vice President of Strategy and Sustainability for Live Fuels, and John Soper, Senior Research Director for Soybean Product Development for Pioneer International.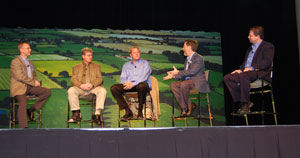 Brown, who is Scottish, brought a European perspective and made the case for feedstocks made from non-traditional (at least in America) oilseeds, such as rapeseed. Bruinsma talked about how you can also get biodiesel from the same grain of corn used to make ethanol, while Soper talked about high oil corn and soybean seeds his company is developing. Sheehan, whose company makes biodiesel from algae, pointed out that they can get thousands of gallons for every acre of green pond scum they grow.
But most importantly, all of them agreed that ALL of the feedstocks are necessary, and no one gets ahead by tearing down the other guy. It wa's a good point, and a great discussion.
Listen to some of that discussion here: [audio:http://www.zimmcomm.biz/nbb/nbb-08-feb6session.mp3]
You can read more about what happened this week in Orlando by going to the conference blog.