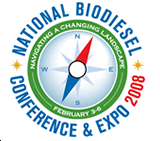 Domestic Fuel is here at the 2008 National Biodiesel Conference and Expo in Orlando, Florida, bringing you the latest updates from this gathering of biodiesel industry experts.

Just after we flew into the sun and warmth of a beautiful Central Florida day, Cindy was off to track down Ed Hegland, chairman of the National Biodiedsel Board. She caught up with Ed at a session on sustainable biodiesel production where it was announced a new task force would be formed to look at making biodiesel more sustainable and possibly move away from more expensive feedstocks, such as soybeans.
Listen to Cindy's interview with Ed: [audio:http://www.zimmcomm.biz/nbb/nbb-08-hegland.MP3]
You can also stay up-to-date on all of the latest happening from the 2008 National Biodiesel Conference and Expo by going to the conference blog, where you can see even more pictures and hear more interviews. Check it out!