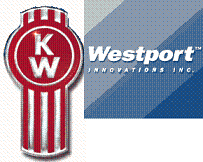 Semi-truck manufacturer Kenworth is teaming up with Westport Innovations… a maker of engines that run on compressed natural gas (CNG), liquefied natural gas (LNG), hydrogen, and hydrogen-enriched compressed natural gas (HCNG)… to build trucks that run on LNG.
A Westport press release says that they will begin producing Kenworth T800 LNG trucks at the Kenworth manufacturing plant in Renton, Washington, supported by Westport's new LNG Fuel System Assembly Center in British Columbia in 2009. Wesport's technology will be used on a Cummins ISX-15-liter engine:
"This agreement with Kenworth creates a dramatic increase in LNG truck delivery capacity and further strengthens Westport's ability to efficiently meet the significant growth in market demand for environmentally clean LNG trucks from the ports and other fleet customers," said Michael Gallagher, president and chief operating officer of Westport.
"The Kenworth T800, equipped with a Cummins ISX and Westport's HPDI fuel system, offers an industry-leading solution with world-class low emissions and greenhouse gases, while delivering outstanding horsepower, torque, and efficiency comparable to a diesel engine," said Bob Christensen, Kenworth general manager and PACCAR vice president. "Kenworth is recognized as a technology leader in the commercial vehicle market and the exclusive ability to offer this technology reinforces Kenworth's reputation as The World's Best."
The move coincides with the Ports of Los Angeles and Long Beach announcement to approve a new $1.6 billion Clean Truck Superfund. The money will go toward replacing many of the 16,800 Class 8 trucks serving the ports with LNG-powered vehicles. Westport's LNG fuel system is the only alternative fuel technology currently qualified for financial support under the ports' Clean Truck program.