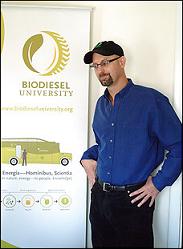 Dan Goodman is preaching, and his disciples are students who spread the word even further. But he's not a minister at a pulpit. He has a non-profit venture called Biodiesel University that gives students hands-on experience producing the renewable fuel, while educating consumers on the benefits of biodiesel.

This feature story in the Washington Post says he works with college students to create the project, who in turn, spread the word to middle and high schoolers:
Many large corporations enlist student interns for help – it's a symbiotic relationship – the interns gain experience in the "real world," while the firm benefits from usually excellent work that is often free or low-cost. Although small businesses usually lack the infrastructure for an intern coordinator, if a program gets going it can save a firm significantly in cost and time.
Goodman's project has taken the business/intern experience a step further by collaborating with colleges and universities like Shepherd University in Shepherdstown, W. Va., the Maryland Institute College of Art in Baltimore and the University of Maryland in College Park, Md., to provide specific Biodiesel University curriculum for degree candidates.
"It's really a two-level educational model where you have college level students sort of experiencing what it's like in the workforce between many different disciplines. The result of their work is the educational content for younger students," said Goodman. "We have many engineering students as well as mechanical, electrical, aerospace, geography, graphic design and business students."
"We are using biodiesel as an example of the renewable technology to get middle and high school kids inspired about technology," he said, speaking from his College Park, Maryland offices.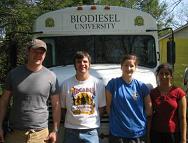 "Although our title is Biodiesel University, the lessons in general should be about environmental stewardship and getting kids excited about the environment and technology. It's unusual that a school would be able to afford or get to have a lot of industrial-grade cutting edge stuff at the school."
The article goes on to talk about how the program is getting some old buses to help take the message to the field. The bus pictured is just one, but Goodman hopes to have 30 mobile labs up and running in the next five years.