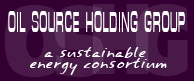 A major biodiesel production facility is coming to Florida. Oilsource Holdings and Greenline Industries are teaming up to build the largest biodiesel plant in the Southeastern United States.
A 60 million gallon per year plant is expected to be commissioned by the first quarter of 2009. The plant will be located in Miami, Florida, with rail spur access for distribution within a ninety-mile radius of three of Florida's most important ports. The project is planned to be completed in three phases with a vertically integrated business strategy and reaching its target capacity in the third phase. The estimated $96 million investment will represent over $1 billion flowing through the economy of Florida.

Working with Greenline Industries, the production process becomes modular so we can scale up quickly as demand increases. The execution of a biodiesel project of this size and caliber from planning to large-scale production will require the combined efforts of the community, the local governments, and the industry in general.
Oilsource and Greenline say that greenhouse gases can be reduced by almost 80 percent when using biodiesel. They say the fuel also emits a lower level of several air pollutants as compared to traditional diesel.