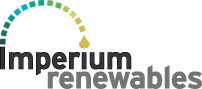 The biggest biodiesel producer on the U.S. West Coast has withdrawn a plan to have an initial public offering (IPO) that could have raised more than $345 million for several biodiesel plants across the country.
This story from Reuters says officials with biodiesel giant, Imperium Renewables out of Seattle, Washington, has filed with the Securities and Exchange Commission to withdraw the IPO:
"Given the current market conditions, our board has determined that it is not the right time to pursue a public offering," John Plaza, Imperium's founder, president and interim CEO, said in a release.
Plaza did not elaborate on market conditions. Prices for soy, one of the main sources of biodiesel, have shot to more than 30-year highs recently on growing global demand for food and fuel from alternative sources.
Imperium had filed with the U.S. Securities and Exchange Commission in May 2007 to raise as much as $345 million from its IPO.
Imperium has been having its share of difficulties lately including a change in leadership at the company with CEO Martin Tobias leaving in late December (see my Dec. 27th post).