In a bit of a surprise over the weekend (sorry, just now catching up from the Christmas holiday), Martin Tobias is out as chairman and CEO of Imperium Renewables… replaced by company co-founder John Plaza as CEO and Nancy Floyd as chairman.
This story on C|Net News Green Tech Blog says tight times for the biodiesel industry might have prompted the change: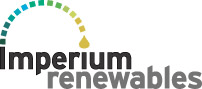 Tobias has been the spokesman and public figure for Imperium since its founding. The company has raised more than $200 million dollars and earlier this year christened a 100-million gallon refinery in Washington state. It has plans to build similar sized facilities in Hawaii, Argentina and elsewhere.
The ouster of Tobias is something of a surprise. He was a frequent fixture on the green-tech conference circuit and presided over the unveiling of the Washington facility in August. The company sent out a press release on the departure of Tobias at 4:30 p.m. PST on the Friday before the Christmas break. Talk about getting maximum exposure for your news.
Biodiesel, however, is a tough business. The fuel, made from vegetable or meat oils, actually costs more than regular diesel. The federal government gives refiners a $1 to 50 cent per gallon subsidy. Imperium had filed preliminary papers for an IPO, but recent rumors make it sound like the company had to postpone the proposed date for the IPO. No confirmation on that.
The article goes on to point out that some other companies have had to swap out management lately as green fuel companies try to find the right mix of someone from the energy sector who is media-tech savvy. What makes this transition so puzzling is that Tobias seemed to have both.