While the ethanol and biodiesel industries will benefit from President Bush's signature on the new energy bill, wind and solar could be left out in the cold a bit.
Tax credits for the solar and wind energy industries are going to expire at the end of 2008. Renewal of the $21.5 billion of those credits prompted a veto threat from President Bush and eventual withdrawal of that section from the bill. This story from Reuters says the lack of the tax credits could have a chilling effect:
Without the tax credits set to expire at the end of 2008, homeowners and businesses will hesitate to invest in the new technologies, industry officials warn. Manufacturing plants for solar and wind power components will also be endangered, they said.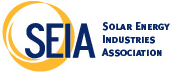 The credits are "absolutely critical for making a market in the United States," said Rhone Resch, president of the Solar Energy Industries Association. "What will happen is you will see solar installations start to drop off in the second quarter of 2008 if they are not extended."

Congressional action in the early part of 2008 is needed "to keep investors from getting nervous," said Greg Wetstone, governmental affairs director for the American Wind Energy Association.
"It would be hard to imagine a worse time for the United States to effectively shift away from the one policy that's now in place that reinforces renewable energy," Wetstone said.
In the past, the solar and wind energy tax credits were saved at the last minute. But the article points out that the credits will expire three weeks before President Bush leaves office, and there's seems to be little incentive for him to change his mind.