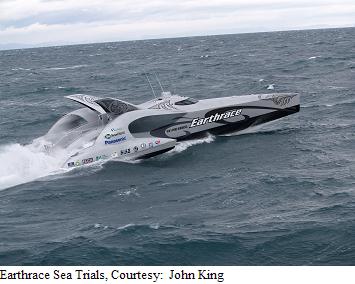 The Earthrace, a biodiesel-powered boat out of New Zealand, will be making another attempt to set the world record for circumnavigation of the globe.
Earlier this year, the Earthrace had to abandon a record-setting try (see my May 31st post). But according to this story on FoxNews.com, the captain believes he's got the bugs worked out since then, and he's literally even put part of himself into the project by donating some of his own fat to make biodiesel:
The 24-meter (78-foot) Earthrace, skippered by New Zealander Pete Bethune, will set off from Valencia, Spain, on March 1 and traverse the Atlantic, Pacific and Indian oceans as well as the Panama and Suez canals in its more-than-24,000-nautical-mile journey.
Bethune will be attempting to break the current world record of 74 days, 20 hours and 58 minutes, established by the Cable and Wireless Adventurer boat in 1998.
He has said he believes his trip could help promote biodiesel as a viable alternative to petroleum diesel.
"I wanted to do a positive project run on biodiesel and take it round the world," he has explained, noting that some 165,000 liters of biodiesel would be necessary for the trip, which will have a net carbon footprint of zero.
He also made a symbolic gesture towards the project, undergoing liposuction with two other volunteers, which produced 10 liters — a bit more than 2 1/2 gallons — of human fat, enough to power the boat for 8 nautical miles.
Well, at least the boat will be a little lighter.