Pennsylvania's State Senate has passed several bills in the last couple of days that will help renewable energy efforts in the Keystone State.
The Houston (TX) Chronicle reports a $650 million omnibus energy bill and two biodiesel measures received passage on the last day of business for Senate for the year: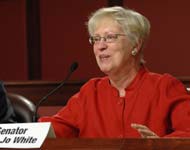 "This is a wonderful start and is a great way to end our calendar year with what I think is a great success under our belt," said Sen. Mary Jo White, the Venango County Republican who was a sponsor of all three bills.
The energy bill would divide the $650 million among different sectors of the energy industry and residents and business owners.
The biggest chunk, $380 million, would go to companies that produce energy, manufacture equipment for the industry or research and develop new technologies. Among the energy sectors that could benefit are wind, biofuels, solar, geothermal and coal. Some of the money also would be available to local governments for renewable energy and conservation projects.
Another $165 million would be available for reimbursements and rebates for consumers who buy solar panels, hybrid vehicles and home conservation items such as energy efficient furnaces, air conditioners, windows and doors.
The biodiesel measures would mandate biodiesel be in each gallon of diesel sold in the state, increasing as production in Pennsylvania increases, and would raise the in-state biodiesel production subsidy from 5 cents to 75 cents a gallon.
The bills could face changes when they hit the Pennsylvania House, and the governor has indicated he's not ecstatic about all the provisions.