Chris Hurt, ag economist at Purdue University in West Lafayette, Indiana says ethanol and biodiesel… and the demands for the feedstocks to make the biofuels… are a big reason for the current bull market.
This story in the Bluffton (IN) News-Banner says Hurt made the remarks at a recent ag outlook breakfast: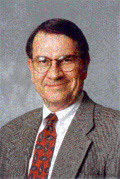 Hurt sees continual price rises in the corn, soybean and wheat markets through 2010 with a gradual settling leading up to that time and then a leveling off period.
But predicting how the markets will react to various factors remains as difficult now as it has always been,.
Hurt explained to the audience of 40-plus farmers, bankers and agribusiness people Wednesday that today's bull market stands on four legs—ethanol, biodiesel, worldwide demand and the cheap dollar.
What the federal government does in the upcoming energy bill will keep those first two legs standing, noted Hurt. What that bill requires as far as renewable fuels from corn starch will likely keep the ethanol market strong, in spite of the media indication that the ethanol market will go bust.
"Nobody knows how long the boom will last," observed Hurt, adding that the bill calls for 15 billion gallons of ethanol from corn starch by 2015. "That's a guaranteed market," he said.
The article goes on to point out that about two-thirds of the ethanol production capacity to meet that demand is already built with more refineries going up every day.