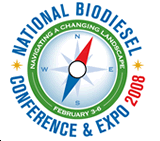 The upcoming National Biodiesel Board's 2008 National Biodiesel Conference & Expo, February 3-6th at the Gaylord Palms Resort & Convention Center in Orlando, Florida, will be focusing on developing the feedstocks to make the green fuel.
The NBB's December, 2007 newsletter has more details:
Alan Weber, economic consultant to National Biodiesel Board, will lead the final general session of the conference, Wednesday's "Biodiesel: The Next Generation."
What innovations in feedstock development appear on the horizon? Many view algae as biodiesel's answer to cellulosic ethanol, but just how close is it? This panel of experts, from both academic and private sector worlds, will discuss algae and several other exciting potential sources for biodiesel as the "next generation" of biodiesel enters the vast frontier. One such panelist will be Jack Brown, a prominent plant scientist at the University of Idaho, with discussion on emerging feedstocks such as camelina.
You need to make your room reservation by January 3rd if you want to receive the hotel's special discount rate of $220/night. More information is available on the conferenced web site, http://www.biodieselconference.org/2008/.