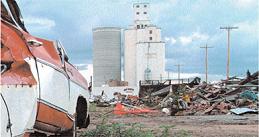 Last May, the town of Greensburg was virtually wiped off the map as a tornado ripped through the small town in Southwest Kansas. But despite losing almost everything, the resilient folks of Greensburg are getting a chance at economic recovery… by way of a green fuel.
This story in the Houston Chronicle says Torsten Energy, LLC will build a biodiesel plant near the town, employing 20 to 25 people:

"This is terrific news for Kiowa County and for Kansas," said House Minority Leader Dennis McKinney, a Greensburg Democrat whose home was lost in the storm. "The more businesses that commit to building in Greensburg, the sooner hardworking families of our community will be back in town and back in the work force."
Torsten Energy is based in nearby Wright in southwest Kansas. The firm said construction would begin after state regulatory permits were obtained.
"Like many Greensburg recovery efforts, we still have a lot to do before we can actually break ground," said Patrick Stein, a representative of Torsten Energy who is overseeing the development. "Though we are still in the very early stages of development, we are completely committed to this community.
"We want to see Greensburg back on its feet, and we know projects like this are the way to make it happen."
The announcement by Torsten comes as state officials announced a $17.5 million aid package for recovery from the tornadoes and summer floods in southeast Kansas.