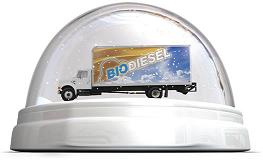 So, we've all heard the talk how biodiesel is just not built for the cold… how it gels up when the temperature goes down. But a ski resort in New England is proving that myth wrong.
This press release from the National Biodiesel Board tells how the resort is running its equipment on the green fuel: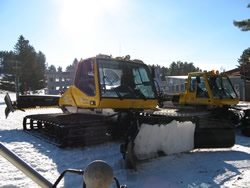 "We know that even with heavy snow falling and temperatures hovering around 20 below, we can count on our biodiesel-powered vehicles to start up and perform with no problems at all," said Mersereau, Operations Director for New Hampshire's Cranmore Mountain Resort. "We have been very pleased with biodiesel's performance and have had absolutely no cold weather problems."
In 2003, Cranmore Mountain, located in North Conway, NH, joined other ski resorts nationwide, such as Aspen, Colo., in fueling its snow grooming fleet with B20 (a blend of 20 percent biodiesel and 80 percent petroleum diesel). A grant from the Granite State Clean Cities Coalition (GSCCC) helped Cranmore make the switch to B20 and install a 4,000-gallon above ground fuel storage tank. Since then, Cranmore has continued to use B20 in its equipment and is now using Bioheat fuel to heat its buildings as well.

"Cranmore Mountain is one of many examples demonstrating that it is a myth that you can't use B20 in cold weather," said Joe Jobe, CEO of NBB. "As we enter the coldest time of year in many parts of the country, biodiesel users can rest assured that precautions such as using high quality fuel and following proper blending procedures, biodiesel blends are reliable even in sub-zero temperatures."
Just like regular diesel, biodiesel can gel up in the cold weather. But the NBB has some tips to reduce that gelling, including mixing biodiesel with kerosene or diesel that has been treated with cold weather additives; using block and filter heaters; and even storing your vehicle inside. You can read more tips and stories about using biodiesel in the cold at NBB's cold weather information web site: http://www.biodiesel.org/cold/.