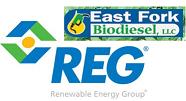 Renewable Energy Group and East Fork Biodiesel held a ribbon-cutting ceremony today for their 60-million-gallon-a-year biodiesel plant in Algona, Iowa with the plant fully operational on Tuesday.
This REG press release says the ceremony was attended by lawmakers and industry representatives, such as Iowa Senators Jack Kibbie (D-Emmetsburg) and David Johnson (R-Ocheyedan) and Iowa Representative Delores Mertz (DOttosen) as well as Randy Olson, Executive Director of the Iowa Biodiesel Board; and Monte Shaw, Executive Director of the Iowa Renewable Fuels Association… in addition to the companies' officials:
"Demand is growing nationally for biodiesel. With that demand has come tremendous opportunity and growth for Iowans," said Nile Ramsbottom, President, Renewable Energy Group, Inc. "We are exceptionally proud to work with our partners at East Fork Biodiesel, LLC. to have helped play a role in creating such a strong economic boost in Kossuth County."
"Renewable fuels are the future," said Ken Clark, chairman of the board, East Fork Biodiesel, LLC. "This facility in Algona will help strengthen Iowa's place as a national leader in the industry while producing clean burning, renewable biodiesel."
The soybean oil biodiesel plant will push Iowa's biodiesel capacity above 250 million gallons annually… with 222 million of that coming from REG.