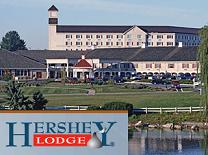 The twinkling Christmas lights glistening off the new fallen white snow this season at the Hershey Lodge in Hershey, Pennsylvania will be powered by a green fuel: biodiesel.
This press release from Hershey's says the lodge is using a local company to turn its old kitchen grease into biodiesel:
Hershey Lodge will use biodiesel made by recycling its used cooking oil from its four restaurants and convention center to power some of its outdoor lighting this holiday season. The outdoor holiday lights at Hershey Lodge are run on a generator; this year that generator will run on its own biodiesel blended with diesel fuel.
Hershey Lodge is working with local attorney Gary Lysaght, who started a small local biodiesel co-op several years ago to produce off-road biodiesel. Lysaght collects the used cooking oil from Hershey Lodge and converts it to biodiesel through a chemical process. The Lysaght Co-op then returns the biodiesel to the Lodge to be blended with diesel fuel and used in generators and other off-road uses.
Company officials point out that not only is the burning of the fuel better for the environment, it will also keep 3,000 gallons of used cooking oil out of the local landfills.