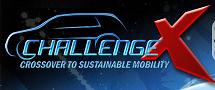 General Motors and the U.S. Department of Energy have invited the media to ride in the vehicles participating in the Challenge X Competition… a multi-year engineering competition that has 17 university teams from across North America in a real-world engineering experience to develop GM vehicles in the company's global vehicle development process. The idea is the teams will create advanced propulsion technology systems that increase energy efficiency and reduce environmental impact through hybrid, plug-in, or fuel cell systems, powered by alternative fuels such as biodiesel, ethanol and hydrogen.
This story on the Autochannel.com says the media event will feature students from the 17 universities in Challenge X at the Petersen Automotive Museum in Los Angeles, California on November 29th:
WHAT:
General Motors and the U.S. Department of Energy will host a media ride
and drive event featuring vehicles from the collegiate engineering
competition Challenge X: Crossover to Sustainable Mobility. Program
officials also will reveal details for the next national competition
beginning mid-2008.
WHEN:
* Thursday, November 29, 2007
* Broadcast media: 5:30 to 8 a.m.
* Print media: 8 to 10 a.m.
WHERE:
Petersen Automotive Museum
6060 Wilshire Boulevard (at Fairfax Avenue)
Los Angeles, Calif. 90036
Media interested in attending need to R.S.V.P to:
Jeff Ormond, 248-824-8205, jormond@stratacomm.net
Kimberly DeClark, 202-441-0096, kdeclark@stratacomm.net