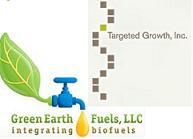 A West Coast company has joined a Texas-based company to form a joint venture to produce biodiesel in Montana.

This press release from Sustainable Oils… formed from Seattle-based Targeted Growth, Inc. a renewable energy bioscience company, and Green Earth Fuels of Houston, a vertically integrated renewable biodiesel energy company… has more.
The new venture will produce and market up to 100 million gallons of Camelina-based biodiesel by 2010, launching the single largest U.S. contract for the unique biodiesel-specific feedstock. Nearly all of the initial Camelina production is expected to be grown in Montana.
"This is an exciting opportunity for Montana – it represents a combining of two major thrusts of economic growth outside the boot," said Governor Brian Schweitzer. "It is energy related and it is value-added agriculture. Having this sort of major commitment is great news." This joint venture sets a precedent for continued research and development of dedicated energy crops.
Targeted Growth has spent years applying its suite of yield and trait technologies to Camelina to create the first Elite Camelina Seed. Green Earth Fuels opened one of the country's largest biodiesel production facilities this month, in Houston (see my November 15th post), and is successfully developing additional projects to provide biodiesel that meets exceptional quality and ratability standards to leading energy companies.
Camelina development has been a three-year project for Targeted Growth.
"We have created a better feedstock for biodiesel," said Tom Todaro, CEO of Targeted Growth. "Camelina can be rotated with current Montana crops, it grows in land with lower agricultural value, and it doesn't significantly increase the use of fertilizer or irrigation water. We think this will be a model for the development and use of other biofuel-specific crops."