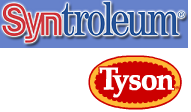 Tyson and Tulsa, Oklahoma-based Syntroleum have formed a company called Dynamic Fuels that will make jet fuel out of animal fat.
This article on the cleantech.com web site says the two will turn 2.3 billion pounds of animal fat into 75 million gallons of biodiesel a year:
Tyson announced that it would build the first biodiesel plant under its venture with Tulsa, Okla.'s Syntroleum (Nasdaq: SYNM) on a site in Louisiana, citing the area's proximity to feedstocks, transportation, and the Barksdale Air Force Base, which has three squadrons of B-52 bombers.
"The B-52 has been the first Air Force jet that has been certified for synthetic fuels," said Jeff Webster, Sr. VP of renewable products at Tyson, in a conference call.
"We've met all of the standards that have been set in the preliminary testing for synthetic fuels, and we've contracted with the Air Force for our next set of fuels for further testing."
Construction on the biodiesel plant will start next year with production expected in 2010.