This week is "Green Week" as NBC promotes various ways of saving energy, and, thus, saving the planet. If you happened to be watching the Sunday Night Football Game on NBC, you might have noticed the halftime show was done without the normal studio lighting (I think it was Bob Costas who said there were more dim bulbs than normal in the studio that night).
This posting on SciFi.com lists the top seven gadgets that are able to produce portable power. One gadget, in particular, that caught my eye was number five on the list… the Micro Wind Turbine: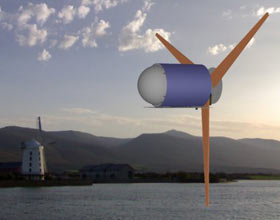 5. Micro Wind Turbine
Want a surefire icebreaker at the beach, the cottage or the stadium parking lot next week? Just bring along Atlantic Power Master's Micro Wind Turbine, set it up, offer to plug everyone in — and you'll be renewable energy-powered party central. The turbine generates about half the amount of power used by a typical home, and it's small, lightweight, and easy to set up. It's also kind of portable (more like transportable) — just plan for someone else to bring the cooler. Oh, and get there early — we're told it can take three hours to set up. Ah, that's just pre-game anyway. It's available now for a little under (gulp) $10,000.