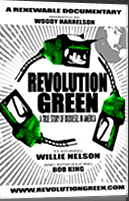 Jessica Kelly, maker of the documentary "Revolution Green: A True Story of Biodiesel in America," returned to her alma mater, the University of Colorado, for a screening this past weekend of her movie.

In a story from Boulder's (CO) Daily Camera, Kelly explains that a year ago on Thanksgiving she was at Willie Nelson's home, and the oil used to fry the turkeys was turned into fuel for her ride home. Her film introduces biodiesel maker Bob King:

A decade ago, King chose to solve a grease overflow problem at Maui's landfill. He now has turned that grease waste into biodiesel fuel and built 10 biodiesel plants across the country.
After the free-screening on the Colorado campus, Kelly held a biodiesel question-and-answer session.
"Really, our main focus is we want people to learn about biodiesel after watching the film and realize that one person can make a difference," Kelly said.