A plan to build a 75-million-gallon-a-year biodiesel plant has received approval from the Clovis, New Mexico City Commission.
This AP story from television station KOB says the plant will make biodiesel from animal fat: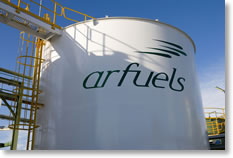 The agreement is with an Australian company that plans to build a biodiesel plant near the eastern New Mexico community.
The agreement lets American Renewable Fuels move ahead with the 80 million dollar plant.
The firm expects to begin construction in March on the facility in the park south of Clovis.