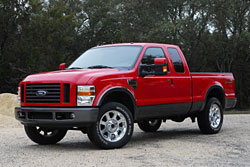 Ford's new Clean Diesel engine… the first time a clean diesel engine has been offered in a full-sized pickup… could be quite a catch for those wanting to be green but needing the power and size of a big truck.
This story in Autospectator.com says the Ford-exclusive 6.4-liter Power Stroke turbo-diesel is quieter, powerful and more capable, while meeting stringent new emissions regulations:
Highlights:
* New 6.4-liter Power Stroke® diesel with Ford Clean Diesel Technology™ provides an increase in performance with a sharp decrease in particulates and emissions
* Sequential turbochargers improve off-the-line performance with smooth acceleration through the power band
* High-pressure, common rail fuel system with Piezo-electric injectors delivers quiet operation without compromising performance
A larger fuel filter better separates water from the fuel, an important asset with the increasing availability of biodiesel.
Ford officials say no diesel engine has ever delivered this much power with such clean emissions.