The U.S. House Select Committee on Energy Independence will hear from biofuel producers, environmentalists, and even some music stars when it holds a hearing entitled "The Grass is Greener: The Future of Biofuels," tomorrow morning (Wednesday, October 24th) at 9:30 EDT in Washington, D.C.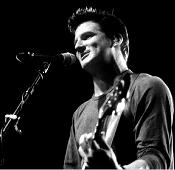 Among those testifying before Rep. Edward J. Markey's (D-Massachusetts) committee, musician Adam Gardner (left) of the band Guster… founder of the non-profit group "Reverb" which has helped other bands, including the Barenaked Ladies, the Dave Matthews Band, Alanis Morrisette, John Mayer, Norah Jones, The Fray, and the Red Hot Chili Peppers green up their tours.
This website has been set up so you can hear live, streaming audio of the event. Remember, that's Wednesday morning, October 24th (tomorrow) at 9:30 EDT.
Check it out!