Palm Beach County in Florida is the latest municipality to switch its bus fleet to cleaner-burning biodiesel.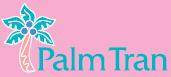 Palm Tran, with its 9-10 million riders a year, will switch its 115 buses to biodiesel in a few months. This story in the Palm Beach Daily News says it will be green in two ways: for the environment and for the county's budget:
The burning of fossil fuels is a major source of carbon dioxide emissions, which contribute to the greenhouse effect. Another benefit will be a reduction in cancer-causing agents linked to the combustion of petroleum diesel.
Chuck Cohen, Palm Tran's executive director, has been coordinating the switch with the county, which is planning the same change for its diesel-fueled vehicles, Cohen said.
"Biodiesel fuels have been found to reduce CO2 emissions by up to 78 percent," Cohen said.
That figure, however, likely refers to the use of 100-percent biodiesel fuel over the life of the vehicle.
Biodiesel is a direct replacement for petroleum diesel and engines can run on any concentration. Cohen plans to boost the amount of biodiesel used in the blend from 5 percent to 20 percent within a year.
The money savings comes for the county in the form that it can run the buses on biodiesel without any modifications to its diesel engines… as opposed to another plan to buy pricey hybrid-fuel buses, which was too far out of the county's budget.