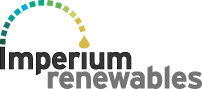 Seattle-based Imperium Renewables has inked an exclusive deal with Hawaiian Electric Company, which provides 95 percent of electricity for residents of the islands, to provide biodiesel for some of the utility's generators.
This post from the Seattle Post-Intelligencer has more details:
The contract, which runs through 2011, calls for Imperium to supply between five million and 12 million gallons of biodiesel per year for an 110 megawatt generating station that is set to open in 2009. Terms of the deal were not disclosed, though it does call for Imperium to give preference to locally-grown feedstocks for the fuel.
Imperium is working with local groups to determine the best feedstock on the islands. Until that is determined, Imperium has pledged to import feedstocks that meet new standards established by Hawaiian Electric and the Natural Resources Defense Council.
The Hawaii Agricultural Research Center reports local feedstocks in Hawaii could produce more than 150 million gallons of biofuel… equal to more than half of the diesel fuel used in the state. Imperium has opened a 100 million gallon biodiesel plant in Washington state and is working on permits for a similar one on Oahu.