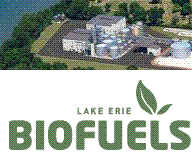 Pennsylvania has opened a 45-million-gallon-a-year biodiesel plant on the shores of Lake Erie… hence the company name Lake Erie Biofuels.
This press release from the State of Pennsylvania's Department of Environmental Protection says the plant will help the state shed its $30-billion-a-year foreign energy dependence while putting more people to work:
"The opening of this facility also shows that companies are eager to invest and grow in Pennsylvania. With our commitment to renewable energy technologies, more and more investors and developers are looking to Pennsylvania. We've become a leading destination for alternative and renewable energy projects, and with Governor Rendell's Energy Independence Strategy, we'll see an additional $3.5 billion in new economic growth and 13,000 new jobs," [said Department of Environmental Protection Regional Director Kelly Burch].
Rendell's PennSecurity Fuels Initiative requires the state to make and use nearly 1 billion gallons of biofuels when certain production capacities are met. It includes a 10 percent ethanol and 2 percent mandates with the biodiesel mandates going up to 20 percent when a 300-million-gallon annual biodiesel production level is attained. The Energy Independence Strategy also invests $850 million toward developments in Pennsylvania's alternative and renewable energy industries.