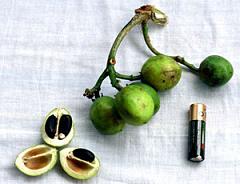 Thanks, in part, to a $677,000 grant from the U.S. government, a program to plant jatropha trees to use as a feedstock for biodiesel in Hawaii will soon get underway.
This story on EnergyCurrent.com says the tropical plant is a natural for the island paradise… and having to import all of its petroleum products makes biodiesel a no-brainer for Hawaii:
Hawaii County Economic Opportunity, the non-profit organisation that was awarded the grant, will be exploring the cloning and mass production of jatropha plant seedlings to be marketed to commercial growers in the biodiesel industry.
The project aims to produce 3 million seedlings within three years and create 70 jobs for the local community. U.S. Senator for Hawaii, Daniel K. Akaka said the project is an important step forward for Hawaii to achieve reductions in greenhouse gas emissions and a self-sustaining energy future.