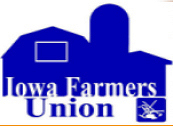 The Iowa Farmers Union has joined with Green World Biofuels to offer a workshop to help people brew their own biodiesel to use in their homes or farm equipment. Covering the entire process from start to finish, it will be at the Green World Biofuels facility near Tiffin, just northwest of Iowa City on Friday, November 16th.
This press release posted on IowaPolitics.com has more:

'Our workshops are designed to educate people who are seriously interested in biodiesel production," says [Green World Biofuels owner Steve] Fugate. "You will leave very knowledgeable and excited about making and using your own biodiesel."
Sources of oil will be discussed as well, including collecting used fryer oil and the potential for pressing oil from a farmer's own seed (soy, canola, etc.)
Workshop cost is $25 per person including lunch. Financial support has been provided by the Leighty Foundation. Register by November 13 by calling 800-775-5227.