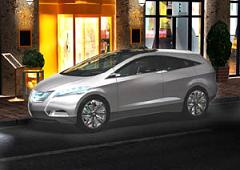 Korean automaker Hyundai has used the Frankfurt Motor Show to debut its new fuel-cell concept vehicle… the i-Blue. The company touts it as a zero-emissions vehicle built on a car-based platform.
This story on the stuff.co.nz web site has more:
"The i-Blue is Hyundai's first-ever model designed from the ground up to incorporate fuel-cell technology," said Dr Hyun-Soon Lee, Hyundai president of research and development.
"Our engineering team has successfully designed a more compact fuel-cell vehicle, while still realising the safety, comfort, convenience and driving range of a traditional internal combustion engine vehicle."
Mass production could start within the next 10 years.