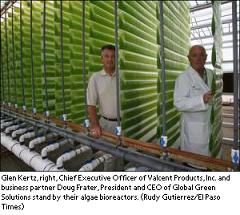 Science is giving the desert regions of the world the chance to get in on the biodiesel boom. Oil-producing algae could hold more promise than conventional Midwestern crops now primarily used to make the green fuel.
This story in the El Paso (TX) Times says a company called Valcent Products has unveiled to the media its system of 10-foot-long water-filled plastic bags set up like a greenhouse in the West Texas desert that grows the oil-producing algae:
"We expect to produce 100,000 gallons (of vegetable oil) per acre per year," which is a much higher yield than soybeans and other plants being used for biofuel, (president and CEO of Valcent Products Glenn) Kertz said Wednesday. He was showing off his patented Vertigro algae-growing system to news media, El Paso city officials and others at his company's 6.2-acre research facility in the Upper Valley.
The article goes on to say the closed-loop system is the key to its success, keeping out foreign particles and maximizing the algae's growth. Construction of a test algae biodiesel plant will begin later this year.