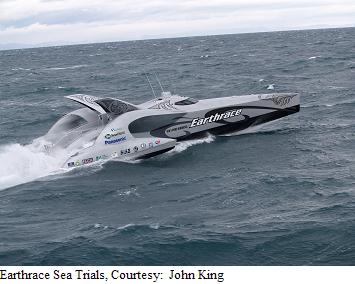 The biodiesel powerboat, the Earthrace, is making stops in 40 cities over 18 months before it makes another run at the world record for circumnavigating the globe.
Right now, the boat is docked in Edinburgh, Scotland where the public can view this amazing machine. The BBC has this story on it:
The current record of 75 days was set by British boat Cable & Wireless in 1998 and the Earthrace skipper Pete Bethune believes they can do it in 65 days.
He said: "The boat is a wave piercer, which means it submarines through waves to make it faster.
"We've had five metres of water on top of the windshield while we have been submarining through 12 metre waves and there is hardly a boat in the world that can handle conditions like that.
"In a normal boat on a wave while travelling fast you tend to get airborne before we come crashing down which is not good on the boat or the crew.
You might remember the Earthrace had to abandon a world-record attempt last May, but at the time, the skipper promised they would be back.