State, industry, and company officials gathered this week at a brand-new biodiesel plant near Farley, Iowa for the official ribbon-cutting ceremony for Western Dubuque Biodiesel's $50 million plant.
This story in the Telegraph-Herald (Dubuque, IA) says those in attendance praised biodiesel's environmental and economic contributions: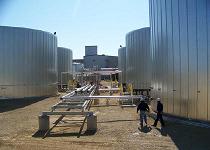 "This plant has no carbon (emissions)," [Nile Ramsbottom, president of Renewable Energy Group Inc. – the company that built the plant -] said. "For every gallon produced here, it's just one less gallon we have to import."
Western Dubuque's successful launch is one more step toward pushing Iowa to the forefront of the alternative fuels industry, according to some of the state and local representatives at Wednesday's gathering.
State Sen. Tom Hancock, of Epworth, said some state leaders are looking to make Iowa the "renewable fuels capital of the United States."
"The best return on state incentives or benefits come from projects like the one we're celebrating today," he said.
Others think the goal of taking the lead in the industry has already been achieved.
"If we're not there yet, we're awfully close," said Tom Brooks, the plant's general manager.
And just like that, we've got another 30 million gallons of DOMESTIC, green fuel added to the mix.
Good luck, Western Dubuque Biodiesel!