Ethanol producer POET is getting ready to open yet another ethanol plant… this time, a 65-million-gallon-a-year facility near Portland, Indiana.
When at peak capacity, the plant will use 22 million bushels of corn a year and join POET's network of 20 plants (plus seven more in progress) in five states, making POET the the largest dry mill ethanol producer in the United States.
Here are some details for Friday's grand opening ceremony:
WHO: POET Biorefining – Portland
WHAT: Grand opening ceremony for a $105 million ethanol production facility near Portland, Ind. that will produce 65 million gallons of ethanol per year from 22 million bushels of corn. The opening of this facility will make POET the largest producer of ethanol in the world.
WHEN: Friday, September 14, 2007
Public Tours – 9:30 – 10:45 a.m.
Vanguard Squadron Flyover – 10:45 a.m.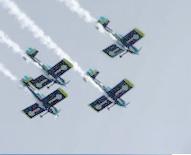 Program – 11:00 a.m. – Noon
Lunch – Noon – 1:30 p.m.
Public Tours – 12:30 – 3:15 p.m.
WHERE: The ceremony will take place at the POET Biorefining – Portland facility (1542 S. 200 West). It is located approximately 2 miles Southwest of Portland, Indiana at 1542 S. 200 West. From Portland, go west on Hwy 67 approximately one and quarter miles to 125 South, turn left. Turn right on 200 West, the facility is on the right hand side.