She stormed the beaches of Normandy on June 6th, 1944 in a bid to free Europe of Nazi tyranny. Now, LST (Landing Ship Tank) 325 is storming its way around America, running on biodiesel… possibly showing Americans how to shed their dependence on the tyranny of foreign oil.
This article on Grainnet.com says the flat-bottomed troop transport, designed to run up on beaches to deliver its load of fighting men, recently made a stop in Peoria, Illinois: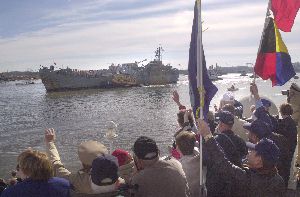 As more than 24,000 people shuffled on board the World War II-era LST 325 ship while docked along the Illinois River in Peoria, August and September, they passed a banner proudly proclaiming "Fueled by Biodiesel."
Hanging that banner on the sides of the ship was important to LST 325 Captain Robert Jornlin, a retired Earlville, IL, farmer.
"I believe in promoting biofuels like biodiesel and ethanol," Jornlin said.
"I'd rather see us running our buses, trains and trucks on it than sending the money to Iran or Iraq. They (Iran and Iraq) just take the money to buy bombs.
"If Americans buy biodiesel and ethanol, it supports the farmers—farmers who pay taxes and buy new combines. That's what I call trickle-up economics."
Veterans of the D-Day invasion found and bought the LST-325 about seven years ago and brought her back from Greece. They've been running her on B11 biodiesel during this latest trip with 7,600 gallons of the green fuel for the trip donated by the Illinois Soybean Association, Illinois Corn Growers, and Growmark.