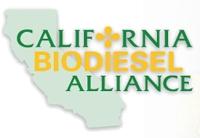 In an effort to promote increased use and production of high quality, renewable biodiesel fuel in California, biodiesel producers in the Golden State have formed a trade group, the California Biodiesel Alliance.
This article from the Central Valley Business Times says founding members of the group are biodiesel feedstock suppliers, producers, fuel marketers and distributors, technology providers, fuel retailers, consumers, and advocates:
"We're inviting industry and members of the public to join us in unleashing the power of the biodiesel market here in California," says Alliance Chairman Eric Bowen of Tellurian Biodiesel.
"Our goal is to ensure that biodiesel receives favorable treatment by state and federal regulatory agencies," says Alliance Secretary Doug Smith of Baker Commodities.