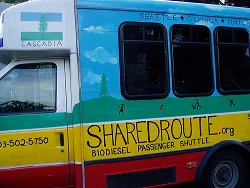 In an effort to get back on the road, Shared Route… a colorful, biodiesel bus that runs between Portland, Oregon and Olympia and Seattle, Washington… will run on vegetable oil.
This blog post in the Seattle (WA) Post-Intelligencer says the bus service known for its welcoming arms to bikes and pets… as well as the human passengers… has been suspended for a while until this latest idea to run it more efficiently came up: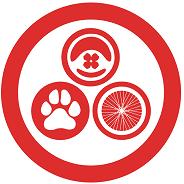 Company director Jacob Rosenblum has decided to cut costs by a third. He'll do it by converting the bus to run on vegetable oil.
A vegetable oil tank with related equipment and insurance, totaling $5,000, are needed to keep Shared Route on the road, according to the company's media release.
Shared Route says its friendly atmosphere has won it dozens of devotees, who are hoping the bus will get its wheels back on I-5 very soon.