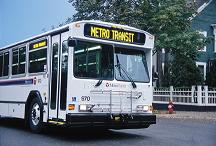 Metro Transit… the public transportation service for the Minneapolis-St. Paul metro area… is raising the amount of biodiesel it is using in its vehicles to a 10% blend. For the last 14 months, Metro Transit has been using a 5% blend.
This story on The Farmer.com says the move is welcomed as making an efficient form of transportation, mass transit, into an even greener form of moving people:
The action, which is part of Metro Transit's Go Greener Initiative, will reduce its consumption of diesel fuel by 1.2 million gallons. By March 2008, Metro Transit plans to increase its biodiesel use to 20%, thereafter, alternating between a 20% (B20) summer blend and a 10% (B10) blend during the winter months.
The action comes just a few weeks after Minnesota Governor Tim Pawlenty announced his state would increase its use of biodiesel to 20% of all diesel used by 2015.