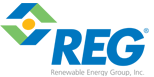 Iowa-based Renewable Energy Group is one of just three companies in the country to earn both BQ-9000 certified statuses from National Biodiesel Accreditation Committee (NBAC). It's a quality assurance program for the production nd marketing of biodiesel.
REG has now earned the Certified Marketer status. This press release from the National Biodiesel Board says its certification is a standard the group hopes all producers and marketers try to obtain:
The voluntary program couples universally accepted quality management systems with the biodiesel product specification ASTM D-6751. The program covers storage, sampling, testing, blending, shipping, distribution and fuel management practices to help ensure quality biodiesel throughout the supply chain.
"With the addition of the BQ-9000 Certified Marketer status, REG can provide added confidence to our customers through our extensive biodiesel handling, storage, transportation and testing methods," said REG chief executive officer Jeff Stroburg. "We want to ensure that every gallon of high quality biodiesel that leaves one of our production facilities is handled properly all the way to the fuel tank of a school bus, commercial truck, tractor or diesel vehicle."
REG was already a BQ-9000 Accredited Producer. The other two companies with both certifications are Peter Cremer North America and FUMPA Biofuels.