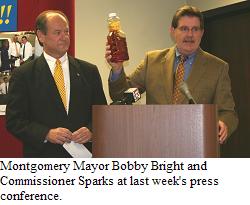 The state of Alabama and the city of Montgomery (AL) have teamed up to produce biodiesel from used cooking oil for the city's and the state agriculture department's trucks.
This press release from the Alabama ag department says the announcement came during a joint press conference with Agriculture & Industries Commissioner Ron Sparks and Montgomery's Mayor Bobby Bright:
"I can think of no better way to help clean our environment and fuel our trucks and heavy equipment at the same time," said Sparks. "Our ability to make biodiesel right here in Montgomery is a significant step toward keeping our landfills and sewer systems free of used cooking oils and protecting our energy security.
Staff members from the Department of Agriculture & Industries' Center for Alternative Fuels have been talking with Mayor Bright's staff over the last few weeks to develop a plan for producing alternative fuels to be used in government vehicles. Mayor Bright said several senior city officials had recently toured a similar facility in Hoover and saw the advantages Montgomery could gain from such an operation. Sparks toured the same facility early this week and decided to put the plan into action immediately.
"Commissioner Sparks contacted me and offered this great opportunity that was just too good to turn down," said Bright. "This process is working in several other cities across the state and we are extremely pleased that we can put this into action for Montgomery's citizens."
Officials are turning the used cooking oil into the clean-burning B20 – 20 percent biodiesel and 80 percent conventional diesel. Not only is it god for emissions, it will keep that much used cooking oil out of area landfills.