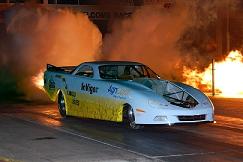 In a blur of yellow… pushed by a yellow flame shot out of the back of a J60 Pratt and Whitney jet engine… this Corvette funny car might be one of the fastest things on Earth.
Kevin Therres's funny car that runs on canola oil-based biodiesel wowed the crowds this week at the Hot August Nite event at the Castrol Raceway near Edmonton, Canada. This story on the Driving.ca web site says it's fast… really fast:
"The car runs the quarter mile in around 6.5 seconds at a speed of 250 mph. He has put it up against regular jet funny cars and won." "The Bio-Diesel works very similarly to diesel," said Carl Perlinger, Milligan's business development manager. "Kevin and his crew had to make some minor adjustments to the injectors to make sure they are getting enough fuel, but I have seen it run and it works.
Perlinger goes on to say that the canola biodiesel has special lubricity qualities especially valuable to this type of racing. Of course, we already know of the environmental benefits of the green fuel… and the shedding of dependance of foreign oil.